My post yesterday was mainly about this, Chictopia's Week of Giving =) I'm just going to promote it (and my charity!) a bit more =) So far I seem to be doing pretty well in this contest and I'm quite optimistic about it. I'd really love the Yorkshire Air Ambulance to win this donation because of all the hard work they do year round. You can see my post from yesterday here where I explain all the hard work they do for the Yorkshire community and how many lives they've saved. One thing I didn't mention was that you can see more about them on the programme Helicopter Heroes where a television crew follows them and shows how much they do on a daily basis, the long hours and hard work they do to save lives. All I need you to do so that they might get this donation is to favourite my look on Chictopia!! Click on the button below, and don't forget to actually favourite it once you're there!! Please do this, it would mean so much to me =) And thank you to everyone who already has! The look below is the one that needs to be favourited, the outfit in the rest of the post doesn't (unless you like it and want to of course!), so please click the button below =D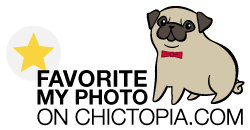 And now onto today's outfit! You might remember me saying that I bought these jeans recently from Primark. I absolutely love them, and I've worn them far too many times!! I wore them last weekend when my dog jumped on my knee then proceeded to wee on them…awkward…! And I wore them the weekend I went to Alton Towers. And many other times besides!! So you can probably tell I pretty much love them, despite the fact that this is the first time they're appearing here.
And I'm sorry to say that the boots are new too =S But they were only £20 from George at ASDA, awesome, yes?! I'd been looking for some good boots but all the ones I found in the high street shops cost upwards of £60 and often weren't even very good quality. I'd be quite happy to pay a bit more for a good pair of boots that'll last a long time, but I just couldn't find any. The only ones I liked ended up having massive heels which would not be good for me when the snow and ice comes!! But I spotted these on the George website and loved them.
I believe that's some sort of jig I'm doing in the first photo there…not sure, but I felt it needed to be included!! I'm planning on dying my hair again tonight…brown!! Shock horror!! I'm going to have plain hair, all one colour =D It's just that the ends where the bleach was have gone a bit frizzy now and I don't want to cut them off, so I thought I'd try dying over the top to smooth them down a bit, and I didn't feel ombre hair really worked for winter. I'll probably change it again soon, but for now I think I'm just going to go for brown. What I really want is proper ginger-red hair, but everytime I go to the hairdressers and ask for that, I end up coming home with really dark red hair which is not what I asked for. I have a feeling that it'll take bleach and doing it myself at home to get the results I want, but I'm going to wait a while before attempting that. If anyone has any suggestions on how to get my hair that colour, please suggest them!!
Jumper: Primark
Top (underneath): Primark
Wine Jeans: Primark
Over The Knee Boots: George at ASDA
Now don't forget to favourite my last look at Chictopia to win the donation for Yorkshire Air Ambulance!! PLEEEEASE =D And I'll be back soon =)
Love,