I feel like a terrible book blogger right now because I got so behind with book reviews that I started putting them off, and now they've completely got on top of me, which is awful because I've read a lot of good ones recently! No fear though, I'm catching up with a few mini book reviews today and I'll also be sharing some larger proper book reviews again soon.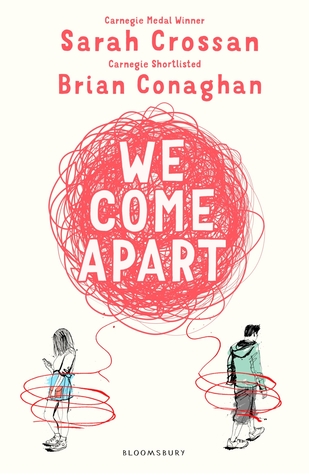 Plot: Nicu and Jess come from two completely backgrounds. Nicu is a Romanian refugee suffering awful racist bullying at school; Jess is suffering with her own abusive home life. Each feels isolated in their own way and are the most unusual pairing as friends, but (of course predictably for the genre and title!) they are drawn to each other.
My thoughts: While We Come Apart is a YA novel so quite a standard read for me, it was a really interesting one for reasons that are different to my usual. First, it's told in alternating chapters between the two characters but written in verse. Secondly, it's also written in the characters' own voices, so Nicu's chapters at first may seem confusing because they're written in broken English. The effect of this however is something outstanding. It brings you closer to understanding the frustrations of the characters, and the telling in verse makes the pace of the story run so quickly that it's almost impossible to put down.
The story itself was good and I liked it, however it was the way it was told that kept me gripped. It does have that rushed instant love storyline that many YA books have, but I do sometimes love that. It's one to read even just for the different way of storytelling.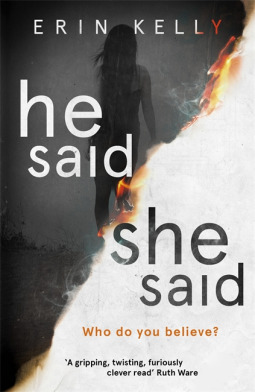 Plot: He Said/She Said opens into the story fifteen years after the event it centres around, one which the reader is not immediately party too. Laura is pregnant and worrying as her husband Kit is about to set off to travel the world to see an eclipse. The focus of the worry is fear that he will run into Beth, a character who they seem to fear above all, but we're as yet unsure why. The plot slowly reveals more and more about the event, an attack on a young woman at a previous eclipse festival, that has caused their lives to explode and for them to live in a state of fear.
My thoughts: He Said/She Said deals with some very difficult topics (trigger warning: there is a quite graphic rape scene), including the attack itself, anxiety and mental illness following the events, and the follow up court case. It was hugely interesting to read this and to understand how it all works, how unjust it can seem (or be) and how people deal with it.
Not only that, but the characters were excellent. They were all unreliable narrators and you're never quite sure who's telling the whole truth and who you should trust – I always love when characters trick me! A good read and one I would recommend.
Plot: Mouse lives on board a trading ship with her younger brother, Sparrow, under the rule of the captain, her grandmother, as part of the Sea tribe. Their father is away, but when they come to realise he's actually missing and has left clues for Mouse to solve the mystery, she sets out on the adventure of a lifetime to save him.
My thoughts: I need to start by saying that this is primarily a children's book, aged at around 9+. Despite this (or maybe because of this?!), I enjoyed it. The animal-named characters were cute, it has a beautiful fantasy-feel about it, and a true sense of adventure. There were action-packed scenes as well as emotional ones. Plus it has an awesome strong female lead in the protagonist Mouse, who is a bold and fearless 13 year old girl, a great role model for kids reading this.
Plot: The synopsis gives little away aside from:
1. I'm in a coma.
2. My husband doesn't love me anymore.
3. Sometimes I lie.
And I think that speaks well enough for the book so it doesn't give much away, so I'll leave it at that!
My thoughts: This was a brilliant psychological thriller, and if you've just read my above reviews, you'll know I love it when I can't figure out whether the narrator is telling me the truth or not, so this makes a great book for me. I imagine it's difficult writing a book with the character always in the same present situation – in a coma. As such, it's a slow builder but full of suspense and anticipation. Admittedly it's not one that stuck in my head for a long time afterwards, but it is no doubt definitely a good one.
Plot: Rhiannon seems like a normal person. She lives with her boyfriend and her dog, she has a pretty average job, she has a group of friends who she doesn't particularly care for that much, but she sees them occasionally and keeps up a relationship with. But she also has a kill list and likes to get revenge by murder.
My thoughts: Now this was an odd one! I've never read a book quite like it before, from the murderer's point of view in journals and with no apparent sense of remorse. I guess what struck me as so odd about it was that I couldn't understand the mindset of it all. In fact, this made it more readable for me in that it was unexpected. And strangely enough funny in a lot of parts – a black comedy, I've seen it described as.
It wasn't a favourite read, but for something quite different to the usual books I pick up, it was enjoyable and fun – if a book about murder can be described as such!
*Titles marked with an asterix have been provided for review by the publisher.