Last month, after writing up my March book reviews, I thought to myself that I might actually start doing them as separate posts – mostly because they're hardly "mini" (I like to talk, I know). But then I went and read too many books again this month (I'm just in a really good reading place right now!) and I didn't leave myself time to post separate reviews of each one. Soooo, here I am with another 9 (nine!!) book "mini" book reviews. I'd say I'd try and keep it short buuuut, you know I won't.

Plot: In a not-so-distant future (or potentially alternate present), Offred lives as a Handmaid for a Commander and his wife in the Republic of Gilead. Once she lived in the world as we know it; now, she is not allowed to read, so signs are pictorial rather than words; she must leave the house only with another Handmaid; and she must lie on her back every month in the hopes that she will get pregnant on behalf of the Commander and his wife.
My thoughts: Probably everyone has heard of this book by now, but potentially as the popular TV series rather than the novel. I've been recommended it countless times, but for some reason never got round to buying it. Fortunately I spotted it on the library shelves and snatched it up.
This book has everything I love – a dystopian world that's not so unlike our own or that unbelievable, an excellent storyline and a bit of a moral behind it. While it was, at times, harrowing to read, It reminded me very strongly of The Power by Naomi Alderman (reviewed here) and was a fascinating story that I'd highly recommend everyone to read at some point – a vision of what the future could potentially be.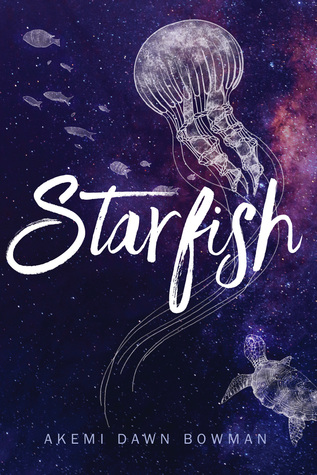 Plot: Kiko has always had a hard time fitting in – with a Japanese father, who has passed on his looks to her, and American mother, who denies her daughter's heritage, she feels she belongs to neither culture. The one thing she can rely on though is her passion: art. But when she doesn't get into the art school she's always dreamed of, she's completely lost. She escapes the place she's grown up, breaks free, and heads to the west coast with a childhood friend to try another way to live, independently.
My thoughts: I found this book really fascinating. It's aimed at YA – a genre I love – and that much is obvious from the coming of age, falling in love and escaping storyline, but I feel it's a novel that has something to teach everyone. Kiko was a brilliant character.
The dual heritage discussion from a young person's perspective was especially eye-opening for me – it was a different take on the feeling of not belonging that's told again and again in YA novels. I also really liked the portrayal of social anxiety and coming up against it – it was very real and well done. Highly recommended!
(Also bonus points for that beautiful cover!)
Plot: Cordelia has lived on the Cote d'Azur for a number of years, but now she's in trouble. She runs to a glittering party to escape the truth she's had to leave behind in her grimy flat. We then delve back into Delia's past, growing up on a tiny island off the coast of Ireland and the trauma she's lived through, all of whch has brought her to where she is today.
My thoughts: This was a dark and twisting novel, with a protagonist who's not the most likeable of characters – in fact, is positively detestable at points! – but is absolutely enthralling. I've read the storytelling being described as hypnotic, and I have to agree. The settings are so well described, the situations are clear and crisp – I really felt like I was on the bleak island of Inishcrann.
This is a story of love gone wrong, over and over, and a woman trying to find her place in the world in an entirely different way to the norm. At times, you feel sorry for her; at others, you absolutely despise her and her decisions. Either way, it's a plot that keeps you reading and enthralled all the way to the last page.
Plot: Myriam, desperate to return to work as her two children start to grow up, decided to hire a nanny, and she finds the perfect one. Louise is entirely devoted to her job – she loves the children, she keeps the house clean and in order, even allows the couple to rekindle their own relationship as she watches over the household. This is no spoiler, as it's in the first sentence and on the cover of the book, but the book opens with the children dead.
Lullaby explores the relationship between nanny and family and what happens when it all goes wrong.
My thoughts: I was super excited for this read as it was part of the What Page Are You On's book club. I reserved it at the library (my first reserved book!) and picked it up with huge anticipation. I did enjoy the book, but I have to admit, I did find it absolutely amazing.
It was dark and clever, the way the feeling of unease slowly crept in throughout the story as small details unfolded, all heading towards the climax that has been revealed at the very beginning. Louise's character seemed strangely flat – she existed only as the nanny, with occasional glimpses into her past, but she still continued not to build as a character – deliberately so, I think.
The writing was good and I enjoyed the different style it had to my usual reads. It was quite short and easy to read. I also enjoyed reading something that's not in its native language – it would be interesting to see how well it came across from the original French, if only I could remember enough of my French to pick up the nuances that clearly underlie it!
Overall, I enjoyed it, but I felt the ending could have been more rounded for my personal tastes in books.
Plot: Sophia and her parents have always led remarkable lives – they run a garden centre in the countryside; she has moved away to the city to live her own life. So when she returns home after an unsettling call from her mother to find her body hanging from a tree and her father attacked below, life turns upside down. But, as you can imagine, there's more to it than the murder-suicide the police suspect. Sophia has to delve into her parents' pasts to find out exactly what.
My thoughts: This was a pretty fantastic story that was fast-paced, twisting, and full of manipulation, secrets and lies – very juicy! With murder and secrets kept hidden for years, it was a very good psychological thriller that kept me guessing (although I had worked out a couple of parts before the end – but I love being able to work things out, it makes me feel clever ;D).
The present storyline of Sophia trying to find out what has happened runs alongside the past where she reads her mother's notebooks, entitled Morningstar, where she describes a life so unlike the one Sophia knows her to have lived that it's almost unthinkable – with a bad crowd, manipulation and more. It's a story that gets you thinking and keeps you reading – highly recommend!
Plot: This is a simple one – it's a retelling of the classic Beauty and the Beast fairytale from the Beast's perspective. When Isabeau's father stumbles upon the castle, Beast sees Isabeau in his dreams and knows he needs to meet her to save him from the desperation of such long loneliness. He tricks her father into bringing her back to the castle, and even against her father's wishes, Isabeau comes.
My thoughts: I have to admit that at the beginning, I was convinced I wouldn't like this – you can't mess with my favourite fairytale and Disney film! I wasn't taken with the writing in the first few pages that seemed simplistic, but I quickly fell in love.
The twists on the much-told tale gave it a fresh perspective and I was completely enamoured with the characters – the way that Isabeau stood up for herself; the way Beast is misunderstood, and misunderstands himself. It was different enough that I didn't feel it was regurgitating material from the original, but similar enough to hold the same charm. The magic that wraps itself around the castle wrapped itself around me too.
Some reviews have said that descriptions are too melodramatic or that the pace was too slow, but I have to say, it won me over. The world building was vivid to me and I found myself daydreaming about the castle as it came to life in the novel. If you like rich descriptions and retold fairytales, this is one for you.
Plot: In a world where half the population only remembers yesterday ("Monos") and the rest only remember the day before that too ("Duos"), how can a murder be solved? A body is found in the river Cam, and her lover, Mark, a Duo, appears to be implicated in it. At the same time, we read the story from the detective on the case – a hidden Mono in a Duo's job, Mark's wife – a Mono, and the victim, who has a big secret of her own.
My thoughts: Another take on the world, and one that makes for a fascinating yet slightly confusing storyline – at least for the characters involved! I enjoyed this fast-paced thriller of a book where facts and memories are revealed to us bit by bit. I liked the solution to people being able to know where they are in the world with the virtual diaries they keep and the way this reflected on memories as being important possessions to keep under lock and key, and the way that they can so easily be manipulated or corrupted.
Each of the characters had their own interesting background that had brought them to where they are today and really fleshed them out. Oddly enough, I was convinced at points that the character of Sophia was written by someone different, even maybe a male perspective, but I guess that shows the skill of the writer that they can make each character's voice very different. It was a good read and I'd recommend it.
Plot: Elizabeth has a gift – she can see things that others can't. She knows what people are thinking and what kind of a person they are, but she's told to suppress and ignore this. But when her husband suddenly dies, this is no longer an option. It's both a gift and a curse, but one that others want to control.
My thoughts: While I did enjoy the premise behind this book, the adventure it took you on and the fast-pace which made it easy to get through, I did feel it wasn't the best written book and it seemed to have too many climaxes, if that makes sense! There seemed to be one high point after another, and I felt a little bit exhausted on behalf of the characters!
I really liked the supernatural aspect – because I just like that, okay?! – and I liked the overall story, but occasionally it delved too far into the unbelievable or random, which pulled me out of the story a little bit. Nevertheless, it was still a fun read.
Plot: Darling, a black woman of Jamaican parentage but who has never even visited the island, meets and marries Thomas, a wealthy man with a teenage daughter, Lola, at the time when Brexit has just been announced. The story is told from Darling's and Lola's perspective – Darling, who has a young son with a muscle wasting disease and who struggles against casual and not-so-casual racism every day, and Lola, who is not a racist but doesn't understand why her father has married a black woman.
My thoughts: This was a twisting ride of a book that was really enjoyable and disturbing in equal parts. The open racism from the younger and middle-class generation was honestly shocking to me – I thought they were more open minded! – and the experiences that Darling comes up against are horrifying. But equally disturbing are other parts of the plot that are revealed later in the book, so I can't give them away! I admit that I did pick up on a couple of the hints throughout, but not all of them, so I loved it when it all came together. This was a very good and thought provoking read that I highly recommend.
SaveSaveSaveSaveSaveSaveSaveSave
SaveSaveSaveSaveSaveSave