Getting back to reality post-wedding and post-minimoon, I was expecting to feel a bit sad and have a lot of time on my hands. It turns out that I haven't actually had all that much time on my hands, but I have had quite a bit of time for reading thanks to the sunny weather. When it gets hot like this, I want to make the most of being outside, and my favourite way to do that is with a book in my hands…hence all the reading this month!
Plot: Idlewild is a school in New England for "broken girls" – those who have nowhere else to go because they've been expelled from previous schools, have some form of behavioral issues, or other flawed access to their personalities. In 1950, one of these gets off a bus and leaves the safety of the road in favour of the woods, but feels a presence behind her.
In 2014, Fiona is a journalist tasked with finding out more about the old school while it's being renovated and reopened, but a discovery throws that story into disarray. And what does that discovery have to do with Fiona's sister whose body was found on the premises years before?
"Mary Hand, Mary Hand, dead and buried under land…
Faster, faster. Don't let her catch you.
She'll say she wants to be your friend…
Do not let her in again!"
My thoughts: The Vermont setting and promises of a creepy suspense story in a mysterious boarding school had me hooked right from the description on this book, and it didn't disappoint. The dual timeline is one that I always enjoy, allowing mysteries to be uncovered in both the past and present without giving anything away too quickly. I also enjoyed the hints of the supernatural that could sometimes be explained, sometimes couldn't, leaving you wondering whether it was real or not.
It was definitely a well told story that had excellent creepy vibes and enough gothic suspense to keep me intrigued. It's one I'd recommend, although there were sections in the middle I wished I could just get to the fun parts!
Plot: Zoe Adams, needing a break to work on her art and to consider her marriage, travels to a remote Scottish island from America, choosing to stay at a house known as the McBride house. It's not long before she learns that the house is the centre of rumours and stories around the island, from a boy who went missing there last year to a young widow and her son mysteriously dying there a century before. As the house begins to disturb her sleep and she hears and sees strange things, she suspects that there's more to the stories than she's heard and that the danger is closer than people realise, but it's up to her to discover why before it's too late.
Thoughts: I loved the isolated landscape this novel is set in that just adds to the unnerving and unsettling atmosphere of the whole story, and I love the idea of a haunted house in this situation. There were moments where I was honestly really scared and thinking I was hearing things around my house too!
The entwining of myth and folklore with "modern" island life was excellent, as were the medley of interesting characters: the friendly people who own the house and pub, the young schoolteacher who's been recently transplanted to the island, the kindly bookshop owner, and the creepy man who rents her a car. Overall a really good read that I would recommend, just not a dark night!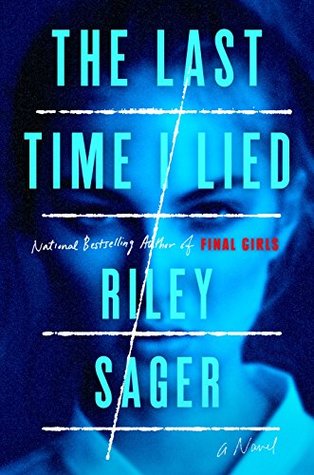 Plot: At a camp for privileged teens in the Adirondacks, 3 girls go missing and never turn up, leaving behind their campmate, Emma. 15 years later, she's a success in the art world, painting huge canvasses with the dark, thick forests she lost her friends too. When she's offered the chance to return to Camp Nightingale as an instructor, despite her fears, she accepts in the hopes that it will help put her mind to rest about the friends she lost there. Are the answers really buried there or is it just in her mind?
My thoughts: So this was really really weird to read – and it sounds even weirder to say – but as soon as I started reading this story, it felt familiar. Basically, I started writing last year, and this was the almost exactly the story I was writing, right down to the very last twist. I thought that surely that wouldn't happen and thought it was just me being weird….but no, it did! Literally, the setting, the main characters, the plot – of course, there were some variations, otherwise that would be really creepy – but it was SO WEIRD. I told Ben and he insisted that I must have read it before and been influenced by it, but this was an advance copy I received only 3 days before I finished it (because I rushed through it – I loved it!). And to be clear, I'm not in anyway saying this was my story someone else wrote – I'd only written the first 17,000 words or so and had the rest as a plotline on sheets of A4 on my wall. It's just a really really odd coincidence!
ANYWAY, on with the actual review! Considering that this was pretty much the story I wanted to write, I couldn't not love it. Even though I've never been to an American summer camp, they're my "thing", as are the Adirondacks. I've been nearby them before but haven't yet visited – that's happening later this year – but I adore that setting and feel "homesick" for it if that makes any sort of sense at all?
The plot itself was fantastic – totally intoxicating in the way that the lives of teenage girls are, haunting and suffocating. I love the swapping between two timelines to unravel the mystery – this can sometimes feel jarring, but here it was done smoothly enough that each jump revealed something new but wasn't confusing. And I adored the characters. Of course, the ending was also brilliant.
The Last Time I Lied is up there with Lake of Dead Languages for me, which is my favourite book ever. Basically, I've added another book to my favourites list and can't wait to read more by the author.
Plot: Told in dual perspective by "him" and "her", parents Marcus and Tessa almost lose their little boy in the sea on holiday, but who is saved by Dave Jepsom, a man who dives in to grab the boy from the water. Even as he hands the boy back to them, they feel uneasy about him, and the feeling is magnified when they return home and begin to see him everywhere – turning up at their house, even though he lives far away, to fix a leaky tap and appearing in places he shouldn't be. But with each of them having their own secrets and problems, the story gets more complicated.
My thoughts: I can't say I didn't enjoy the book as I did find the storyline captivating, but I did think there were points at which the attempt to build tension left me skimming a few paragraphs so I could get to the conclusion quicker. One example of this was Marcus' work – I work in PR so at first I was interested to hear about his job, his office and what was going on. While I can completely understand why we were hearing lots about his clients and the work that was going on to build his character as caring about not a lot else than his work and to build the plot around this that was necessary, but at times I just felt like I didn't want to hear about somebody else's work that I wasn't all that interested in again.
The characters were all pretty unlikable, which is always fun in a book – is that a weird thing to say?! The mystery of "is he really there? Are they imagining it? Why would he be there?!" was also fun, but slightly too dragged out sometimes for my liking. The ending was very tense and had me holding my breath waiting for the conclusion – so much so that I feel it ended up a little rushed and confused. Again, I understand that's because it was being shown from the characters' flawed perspectives, but even so, I ended up a little bewildered when I finished.
Overall though, a pretty good read – a good one for a holiday or beach read (although maybe not with small children by the sea?!) that's easy to get through and filled with tension.
Plot: Childhood friends Kate and Paul make the stereotypical promise of young friends: if they're not married by the time they're 30, they'll marry one another. We enter the story just before their 10th wedding anniversary where it's clear that marriage and friendship aren't as clear cut as they seem, with secrets and miscommunication an issue. Delving back through their past alongside their present, it becomes more obvious the path their relationship has taken as they strive to pull it together.
My thoughts: I was expecting this to be a pretty light and fluffy read of a chick lit, but was pleasantly surprised to find it was definitely deeper than that and had me hooked. I really enjoyed the characters – how different they were in their past and present forms, and how their relationship had morphed into something entirely different. And I enjoyed the hint of the secret throughout the story that there was something hidden beneath the surface that we didn't know about. It was a slow builder, but one that wasn't boring in any way. I loved being thrown into the past which seemed hazy with memory and nostalgia, then back to the present where life was very different – it was well written with the two styles being very clear. I wouldn't say this would normally be the kind of book I'd pick up, but I thoroughly enjoyed it.
Plot: As Hulda, a detective inspector, approaches her retirement (whether of her own decision or not), she takes on her last case: a cold case where a woman's body, an asylum seeker from Russia, was found murdered on a remote coastline in Iceland. The avenues are closing in around her, but she continues to ask questions, slowly learning that the whole truth is being hidden from her. Can she solve the case before her imminent retirement?
My thoughts: I enjoyed the thrill of this book, with an interesting mystery to uncover and a protagonist who was really interesting – very unlike the usual young and exciting detective you normally find in these stories. I did find that the premise was pretty simple though, with few characters and a storyline that wasn't all that complex. That's not to say it wasn't good, because it was – I just thought in areas it seemed a little rushed and basic for a detective novel. I can imagine this making a very good episode of a detective TV series, but as a novel, I would have liked a little more intrigue. It makes a good, quick read though that was a fun ride.
This isn't one with a "plot" as such as it's an exploration of the English language as we know it today, how it's been in the past and how it may look in the future, delving into the popularity of English as a world language, how it's changed, swear words around the world and more.
If you know me well, you'll know I'm obsessed with linguistics. I'll throw random word facts at anyone who cares to listen. I read this book as a teenager and decided to reread it, starting the eve of my wedding day – just because! It's not one to read in one go, in my opinion, as it needs to be digested – plus you may need to read sections, at least words out, or at least if you're me, you do!
There are arguments that some facts and claims in the book are incorrect or poorly researched, and that's a little sad, but I do enjoy books like this that give me more wordy facts and an overarching view of the English language. On top of that, Bill Bryson's writing is fun and accessible, even for those that don't have an interest in words, making it ideal for someone who wants an overview of English linguistics and language without delving too far.